Report a wildfire: If you see a wildfire in a forested area call 310-FIRE (3473)
Find maps and data describing current and forecasted weather conditions, including precipitation and lightning.
Find maps forecasting how conditions are expected to influence fire behaviour in the Forest Protection Area of Alberta.
Fire danger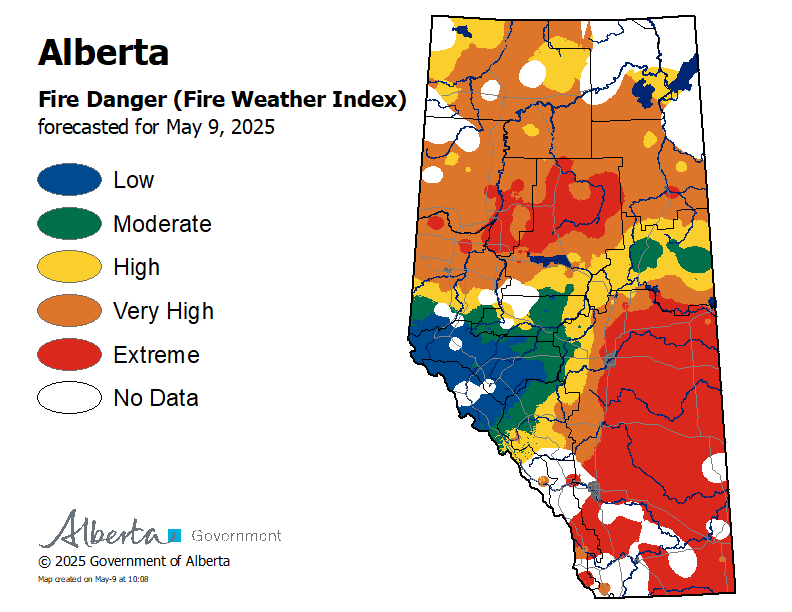 Fire danger is a relative index depicting forest environment conditions, how a fire will behave, and how much damage a fire could do. This map is created daily during wildfire season, from March 1 to October 31.
How to interpret the fire danger map
Low: Fire can still ignite but is not expected to spread to deeper vegetation layers or larger fuels, such as trees.
Moderate: Creeping or gentle surface fire is likely.
High: Forest fuels are dry and fire risk is serious. Moderate to vigorous surface fire is expected, which may spread to treetops. Conditions may be challenging for fire suppression efforts.
Very high: High-intensity fire is expected and likely to spread to treetops. Fire is expected to start easily and to challenge suppression efforts.
Extreme: Forest fuels are extremely dry and pose a very serious fire risk. Fast-spreading, high-intensity fires are likely, which are very difficult to control.
You will NOT receive a reply on your feedback. Do NOT include personal information. To get answers to questions, use Alberta Connects.
Your submissions are monitored by our web team and are used to help improve the experience on Alberta.ca.