Alberta's front-line health workers provide exceptional care to patients and families, and Alberta's government is committed to supporting their work by providing a high-functioning health care system. Alberta's government has been working to address wait times and health care service disruptions, but challenges still exist in the system, including accessing community care like family doctors and local health services. The current health care system's structure limits the government's ability to provide system-wide oversight, set system priorities, and to require accountability for those priorities on behalf of Albertans.
To overcome current challenges and deliver the right care for Albertans at the right time, Alberta is refocusing the health care system. These changes will focus on the priority sectors of primary care, acute care, continuing care and mental health and addiction to ensure Albertans receive the best care within a single, fully integrated, high-functioning system.
These changes will improve front-line service delivery, and front-line jobs will be protected during this transition. Albertans will continue to access health care services where they regularly receive their care during the system's transition period and beyond.
"Albertans deserve access to the health care they need, when and where they need it. Health care workers move mountains for their patients every day. For too many years, Alberta's health care system has been too complex and uncoordinated, leading to unacceptable wait times and poorer health outcomes for Albertans. It's time to change that. It's time to put Albertans first in every health care decision and give our front-line experts the right space to properly care for Albertans. This is why we are refocusing the health system to provide better care for generations of Albertans to come."
"We are at a critical juncture when it comes to health care in Alberta. We need to refocus how the system is structured and create a path forward that will get us the outcomes Albertans deserve. This work will take time and it will not be easy. We will lean on the world-class talent and expertise that exists in our health care system every step of the way. I ask health care workers to join us on this important journey so they can work in a better system – for them and for their patients."
"Minister LaGrange has acknowledged that our health care system needs urgent reform. This work will only succeed with the involvement and leadership of physicians. The AMA looks forward to meaningful consultation and collaboration as these reforms are further elaborated."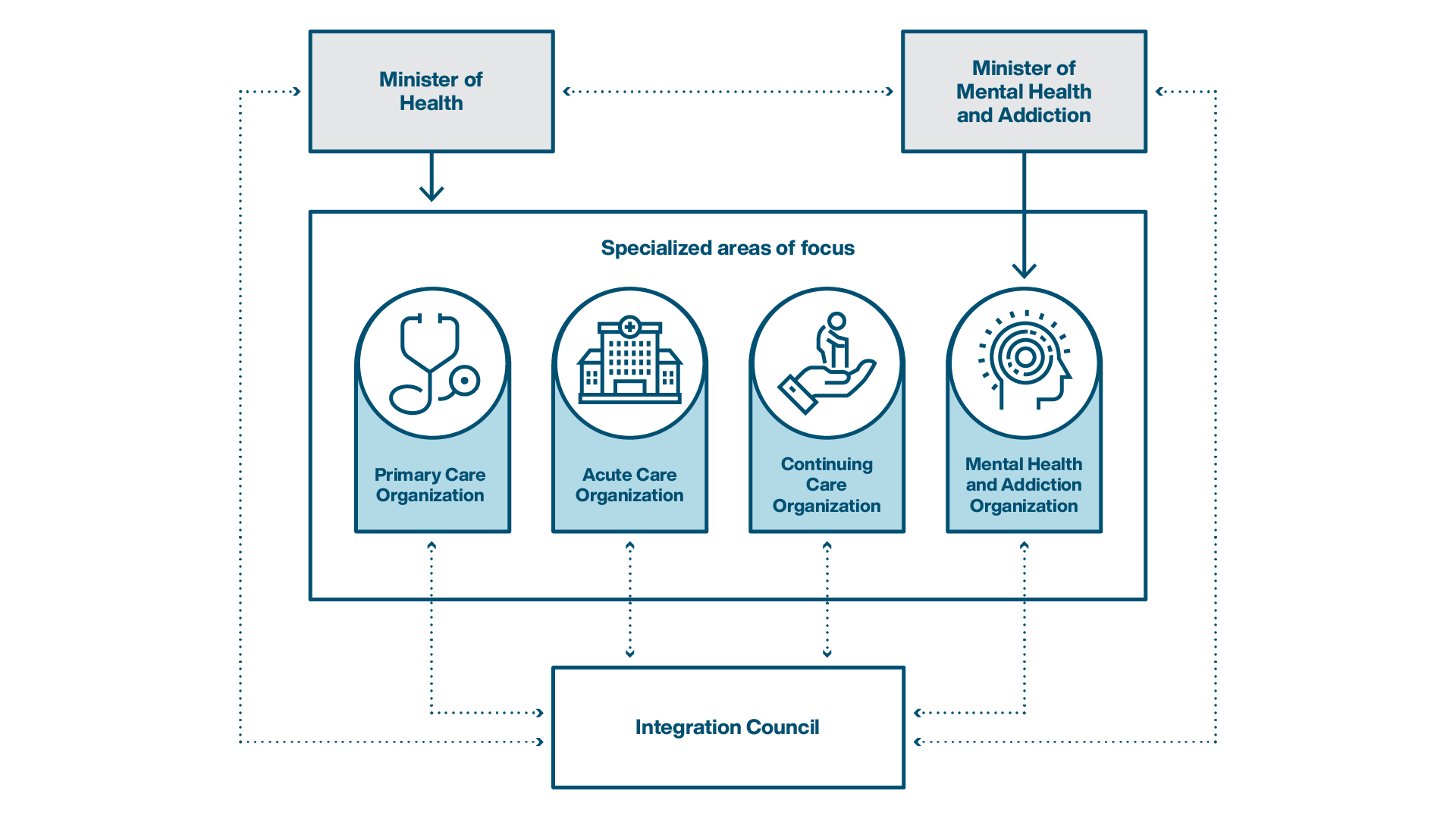 Alberta's government will establish advisory boards to provide initial direction and support for the transition into the reorganized provincial system. The four provincial organizations dedicated to each sector will be in place by fall 2024.
A streamlined AHS role
Alberta Health Services (AHS) will continue to have a strong role as part of the refocused system. Under the new structure, AHS' primary focus will be acute care and continuing care. Other AHS delivery functions will move to be accountable to the new organizations.
Acute care
The acute care provincial organization will oversee the delivery of hospital care, urgent care centres, cancer care, clinical operations, surgeries and emergency medical services. The organization will work directly with acute care providers including Alberta Health Services, Covenant Health and chartered surgical facilities to speed up access to quality care and make sure the patient's journey through the acute care system is efficient and effective across the province. Key outcomes for the new organization include:
Shorter wait times for emergency departments and surgeries.
Lowering emergency medical services response time.
Higher quality care across the province and enhancing access to care in rural areas.
"I have been advocating for changes to ensure our health care system is sustainable and serves the current and future needs of Albertans, particularly those in the City of Grande Prairie and the surrounding region. I am encouraged by the elements within the plan, and I am extremely optimistic it will produce the outcomes we are looking for and that our residents need."
"The Alberta Professional Fire Fighters & Paramedics Association believes in order to achieve improved ambulance response times and a community-focused pre-hospital care system that prioritizes the well-being of its practitioners, a structural change to the provision of health is in order."
Primary care
The new provincial primary care organization will coordinate primary health care services and provide transparent provincial oversight. Primary health care includes all the services Albertans access to support their day-to-day health needs through every stage of life. That includes visits with a family doctor or a nurse practitioner, visits to Primary Care Networks, consultation with a specialist, preventative care and chronic disease management.
Establishing a primary care governance structure was one of the recommendations from the Modernizing Alberta's Primary Health Care System (MAPS) report, which was released on Oct. 18.
The primary care organization will focus on achieving key outcomes, including:
Ensuring every Albertan will be attached to a family physician or a nurse practitioner.
Providing timely access to high-quality primary care services, including after-hours, no matter where they live.
Supporting an integrated team of health professionals to provide comprehensive primary care, including family physicians, nurse practitioners and pharmacists, that has appropriate access to patient health information.
"The Nurse Practitioner Association of Alberta supports the decision by the minister and Alberta Health to restructure health care oversight in the province. The health care system in Alberta is in crisis and new ideas and approaches are required to address current need and to support Albertans into the future. The proposed changes have the potential to position Alberta as a leader in primary care, continuing care, emergency, acute and surgical services and integrated mental health supports. These are bold enhancements that if done well will lead to improved access, improved health outcomes and improvements to the bottom line. We look forward to working with the government and stakeholders to ensure success."
"The Alberta Paramedic Association supports the Minister's refocusing of the current health model in Alberta. This re-visioning allows for opportunities to tackle current issues, and create system enhancements in the delivery of services for Albertan's including those improvements linked directly to the profession of paramedics."
Continuing care
The continuing care system provides Albertans with the health, personal care and accommodation services they need to support their independence and quality of life, including rehabilitative or restorative care. These services and supports may be provided in different settings, including individuals' homes, continuing care homes, supportive living accommodations and adult day programs.
In alignment with the Facility-Based Continuing Care Review, the new continuing care provincial organization will provide provincial oversight, coordination, service delivery, home care and community care. This will renew focus on residents and create equitable, consistent and timely access to continuing care supports and services through a single, coordinated intake approach. All current contracted operators will continue to deliver services under contract with the new organization.
The new organization will continue the work to add more continuing care spaces, attract and retain health care workers, advance innovative solutions and support Albertans as they choose where and how they'd like to live. The new organization will focus on achieving:
Equitable, consistent and timely access to continuing care services.
An increased number and geographic distribution of beds to meet the needs of Albertans.
Improved team-based cross-sector care leveraging other health and social services.
"Albertans deserve and expect the best system of care that will support their independence and quality of life. By refocusing Alberta's health care system on patient-centred care, Albertans will now receive the highest quality of care, including seniors, vulnerable Albertans and children and adults with developmental disabilities."
"The Alberta Continuing Care Association applauds the recent health care reforms by the Alberta government and its commitment to advancing health care services for seniors. These reforms align with our mission of creating a sustainable and innovative continuing care sector. We're eager to collaborate with Alberta Health, providing expertise, advocating best practices, and fostering innovation for seniors' well-being."
Mental health and addiction
As part of the refocusing, Alberta's Ministry of Mental Health and Addiction will begin to oversee the mental health and addiction system, including managing funding. To continue the delivery of public mental health and addiction services, Alberta's government is establishing a new provincial mental health and addiction organization. This organization will be responsible for the delivery of services currently provided by AHS. It will continue to focus on recovery-oriented care for Albertans, delivering services that span prevention, intervention, treatment and recovery supports.
Oversight of the mental health and addiction system by the appropriate ministry will ensure Albertans are receiving high-quality recovery-oriented care in every corner of the province. This change will also allow for better coordination between services delivered by the public agency and the non-profit sector. Additionally, to support the ministry's enhanced responsibilities, a new Centre of Recovery Excellence will be established to improve the quality of mental health and addiction service delivery in Alberta.
The mental health and addiction organization will focus on:
Supporting every Albertan struggling with the deadly disease of addiction and/or mental health challenges in their pursuit of recovery.
Ensuring Albertans can access a full continuum of recovery-oriented supports that help them improve their overall well-being and sustain recovery.
Improving mental health and addiction care for Albertans by further expanding access to treatment and recovery supports across Alberta.
"Our government is making sure Albertans have more access to mental health supports and addiction treatment services than ever before. The direction we are taking Alberta is caring for Albertans and supporting them in their pursuit of recovery."
"These steps from Alberta's government create an opportunity to build on the strong foundation of existing mental health and addiction services and the exemplary work of our staff and clinicians. I am excited to lead the transition toward a new provincial mental health and addiction organization to ensure delivery of the best recovery oriented clinical care anywhere in the country".
"To see a government this focused on recovery brings so much hope to those working at Oxford House and the individuals in treatment. I'm proud to support the government in their work to strengthen addiction services around the province."
"We are excited with the government's refocusing of the health care system. It will achieve better system coordination and delivery for service providers, more support for front-line workers and improved access to addiction and mental health supports."
Covenant Health
Covenant Health will continue to offer services in the areas of acute care and continuing care in communities across Alberta. Under the new structure, Covenant Health will no longer be contracted and funded through agreements with AHS. It will transition to have direct relationships with the new organizations.
"Our health system has been under considerable stress and we're optimistic about the new bold and balanced direction set by Alberta's government. We welcome the commitment in this announcement to engaging with patients, health care providers and the community. We look forward to working with the Government of Alberta and all our partners to build on this new outcome-focused approach as we recommit all our energy to improving the health of Albertans."
Engaging the health workforce and Albertans
Alberta's health care workers deserve to work within a structure that will support their success and prioritize their well-being. Alberta's government will begin engaging with the health care workforce in a thoughtful and thorough manner. As the province moves towards implementing this new structure, understanding job obstacles and exploring opportunities to reduce red tape and implement other practical solutions will be critical to achieving success.
Engagement sessions with front-line workers, AHS staff, health care unions, health associations and a wide range of health partners are scheduled throughout November and more will be added into the new year.
Alberta's government is also committed to engaging with Albertans and listening to input from patients, families and caregivers. More information about public engagements will be provided in the coming months. Engagement session dates will be regularly updated online.
"I am excited to see that the government is ensuring patient care is at the centre of the health system. As a practitioner, I work to provide the best possible care for my patients, and I am glad that we are moving towards a system that is structured around that."
"The Alberta Association of Nurses is highly supportive of the bold steps the Government of Alberta is taking to refocus the health care system. These changes will help create better work environments for nurses and enable them to better provide care that meets the needs of Albertans."
Local decision-making, accountability and integration
Front-line health care workers and regional partners have a direct line of sight on what needs to change to improve quality of care in their community. All four health system sectors will be mandated to empower local decision-making and work closely with new regional advisory councils. Alberta Health will restructure the 12 regional advisory councils that currently exist and create a new Indigenous advisory council to better represent community perspectives, bring forward local priorities and give input on how to improve the system.
The Ministry of Health will also realign its structure to better match with the new organizations, support the refocusing of the health care system and provide appropriate oversight. This includes ensuring each organization has its own reporting structure within Alberta Health.
In addition, the role of the Health Quality Council of Alberta will be expanded to support Alberta Health to set performance standards and performance indicators and to support audit and compliance functions. The council will also collect insights from patients throughout the transition toward achieving a high-performing health system.
A separate integration council will be formed immediately to ensure system alignment, identify efficiencies, remove barriers and make sure the system is delivering better health outcomes.
Finally, a procurement and system optimization secretariat within Alberta Health will negotiate standard offers for goods and services to drive efficiencies through economies of scale. This will allow the refocused system to continue to benefit from centralization of these services when appropriate.
"Across hundreds of hours of engagement with community leaders and health care providers in rural Alberta, I have repeatedly heard concerns with the health care system and the need for local perspectives in decision-making. I know this will be welcome news, and that the work being undertaken by the government of Alberta is going to lead to much-needed change in our system."
"We need to bring high-quality health care service back to rural Alberta. As a small-town Alberta mayor, I think this is a significant step in that direction, and we need to get started now."
Related information
Related news
Multimedia