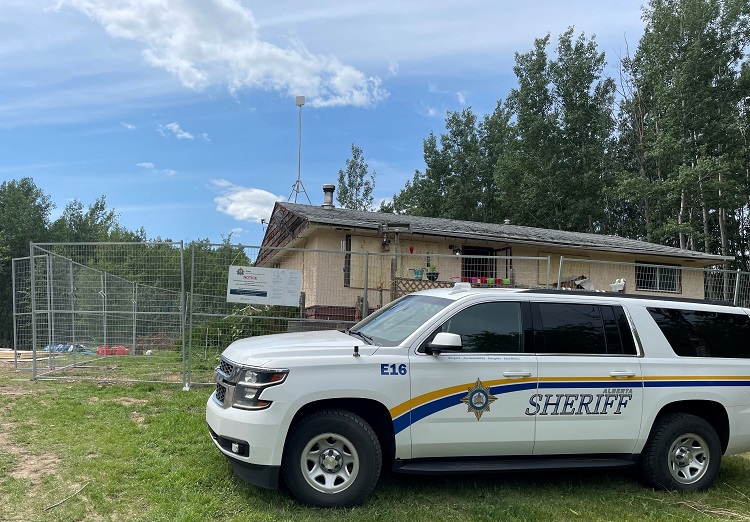 The Safer Communities and Neighbourhoods (SCAN) unit of the Alberta Sheriffs obtained a court order against the owner of Lot 117 at 52318 Range Road 25 that gives investigators the authority to close the property for 90 days, starting at noon on June 22.
The community safety order, obtained in Court of King's Bench, bars people from the property until the closure period ends on Sept. 20. Crews are installing a fence around the lot and boarding up the house to prevent unauthorized access during the 90 days.
"Our government was elected with a mandate to make communities safer throughout Alberta. With support provided by the province's SCAN team, even rural areas are seeing positive changes that will have a lasting impact on the safety of their communities. We still have more work to do to improve public safety across the province, but this is a positive step forward. We value the dedication that our law enforcement shows to protecting Albertans."
The Alberta Sheriffs work with other law enforcement agencies to shut down properties being used for illegal activities. The Safer Communities and Neighbourhoods Act gives sheriffs the authority to target problem properties through civil enforcement.
Since its inception in 2008, Alberta's SCAN unit has investigated more than 8,000 problem properties and issued approximately 100 community safety orders. Most complaints are resolved by working with property owners to keep criminal activity out of Alberta communities.
Quick facts
The SCAN unit began this investigation in response to multiple complaints from the community in October 2022.

During the investigation, the property was occupied by a relative of the owner, who lives elsewhere.

The SCAN unit was able to substantiate complaints about drug use and issued a warning letter to the property owner in November 2022.

Efforts to work with the property owner and his family initially succeeded in reducing the drug activity and disruptions to the surrounding community.

In March 2023, the relative of the property owner died of a suspected drug overdose in the home. The ex-wife of the deceased moved in for what was supposed to be a short stay – but refused to leave when the owner asked them.

Community members reported an increase in drug activity and disturbances related to the property. SCAN investigators were able to confirm the community's concerns through evidence supplied by the local RCMP detachment.

A Court of King's Bench justice issued a community safety order on June 14. In addition to authorizing a 90-day closure, the order authorizes investigators to monitor activity at the property for a further two years, expiring on Sept. 20, 2025.